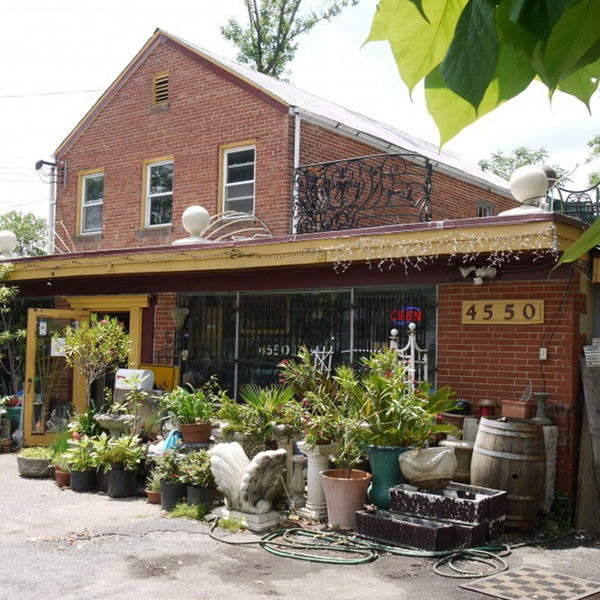 Secondhand News: Getting 'familiar' feels at Vintage House Parts & Radiators' new locale
Secondhand News: Getting 'familiar' feels at Vintage House Parts & Radiators' new locale
Posted on September 16, 2019 in Cheverly, Columns, Most Recent Print Edition, Print Edition, Secondhand News
By LAUREN FLYNN KELLY — If you're a regular reader of this column, you know that I support reducing waste, reusing old items and maintaining original components of the home. Saul Navidad, owner of Vintage House Parts & Radiators in nearby Cheverly, shares this philosophy. 
About five years ago, I featured Vintage House Parts' former location in North Brentwood, known to many as "that old radiator place on Rhode Island Avenue," and was charmed by its vast inventory of beautiful, hard-to-find items salvaged from homes in the Washington, D.C., area. Navidad opened the business in 2012 after working for many years with The Brass Knob Architectural Antiques (which, sadly, will close its Adams Morgan shop after 38 years of operation on Nov. 1). 
Filling the void left by the 2011 closure of The Brass Knob's salvaged parts warehouse, Navidad continued to work with area contractors to swoop in before a historic house demolition or renovation and save items such as chandeliers, doors and fireplace mantels from being trashed. On a hot summer day at the new warehouse, Navidad told me he rescues these pieces because their craftsmanship and durability are superior to those of today's modern fixtures. And there are homeowners from here to Baltimore who "are smart enough to know that it's better quality and are looking for this kind of stuff to put back in their houses, so it looks original," said the Riverdale resident. 
When the Rhode Island Avenue building was put up for sale at a price that was out of range for a salvage business, Navidad began relocating the inventory to the rented warehouse space at 4809 Lydell Road in October 2018. Nestled behind another warehouse down the road from the Pepsi-Cola bottling center, it may not be as easy to find as the old location, but it is much better suited to housing tall items (like street lamps from Silver Spring!) and has a more walkable and organized layout. One section features brass and crystal doorknobs, drawer pulls, brackets and other antique hardware neatly displayed in glass cabinets and old card catalog cabinets. Another area allows employee Roy Wheeler to polish and clean old items onsite. During my visit, he was busy brightening up a set of Victorian heat registers.
There's also a warehouse cat named Shuggy who served as an excellent tour guide as we walked past little pieces of D.C. history, like a pair of massive doors that came from the old Masonic Temple on 9th and F, as well as old fireplace accessories, built-in shelves and clawfoot tubs. There is even a small antique cradle that had my kids cooing at the air. As my oldest daughter put it, everything there feels "familiar." And of course, there are the cast-iron radiators, which line at least one-third of the space. When I asked Navidad if there is still a market for old radiators, he firmly replied "Yes," and said he's been told Vintage House Parts is the largest used radiator supplier in the area. 
Vintage House Parts is open Monday through Saturday, from 10 a.m. to 5 p.m. To keep up with new arrivals and snag 'em before they're gone, follow their Instagram handle, @vintagehousepart, maintained by marketing director, Jorge Lopez.